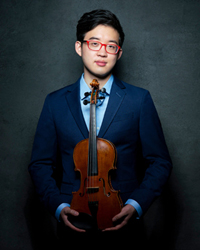 Elgar & Mozart
When
Runs from Saturday October 2 2021 to Monday October 4 2021
Approximate running time: 2 hours
Venue
Event Notes
×
ATTENTION: Proof of vaccination or negative COVID-19 test results within 72 hours AND a photo I.D. will be required for entry for ages 12 & up. All patrons, regardless of age or vaccination status must be properly masked.
No one under the age of 12 is allowed for the Saturday & Monday at 7:30 PM and Sunday 3 PM concerts.
Children between the ages of 7 and 11 may attend the 2PM Discovery Rehearsal and must be masked.
For the safety of all of our guests, patrons who do not comply with the above guidelines will be denied entry or asked to leave the hall.
Please read complete listing of COVID-19 protocols for this concert.
PERFORMANCE DATES & TIMES
Saturday, October 2, 2021 -- 7:30 pm
Sunday, October 3, 2021 -- 3 pm
Monday, October 4, 2021 -- 7:30 pm
Discovery Rehearsal: October 2, 2021 -- 2:00 pm

Francesco Lecce-Chong, conductor
Julian Rhee, violin

LIBBY LARSEN: Deep Summer Music
WOLFGANG AMADEUS MOZART: Violin Concerto No 5. Turkish
GABRIELLA SMITH: Rust
EDWARD ELGAR: Enigma Variations

Pre-concert talk with Francesco Lecce-Chong and Julian Rhee in Weill Hall:
Saturday at 6:30 pm
Sunday at 2 pm
Monday at 6:30 pm

Single tickets go on sale August 30, 2021. Tickets are 15% Off August 30-September 17, 5 pm

SAT & MON @ 15% Off
Red: $77
Brown: $70
Gold: $63
Purple: $56
Blue: $43
Green: $20

SUN @ 15% Off
Red: $82
Brown: $73
Gold: $69
Purple: $61
Blue: $49
Green: $25

Please note: 15% Off single ticket discount only applies to the seven Classical Series concert. Fees apply.

Health & Safety:
Your safety is our top priority. The Symphony is committed to adhering to all local, state and industry safety guidelines. We will keep patrons informed via email communications and on the website as the concerts near. Please be sure to read current guidelines before arriving. We rely on your patience and your trust. Click here for the latest COVID protocols

All patrons, regardless of age, must have a ticket.
This event is for ages 7 and up
All concert programs, artists, dates and prices are subject to change.
Tickets are non-refundable.
$4/ticket fee applies