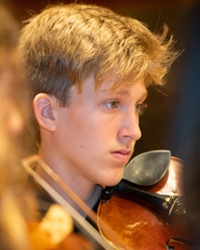 SRSYO - Memorable Melodies
When
Occurs on Saturday March 5 2022
Approximate running time: 1 hour and 30 minutes
Venue
Event Notes
×
Bobby Rogers, conductor
COVID PROTOCOLS AT THE CONCERT:
Adult Patrons and youth 5 years of age and older:
Mask are required
Photo ID is required (waived for children accompanied by parent)
AND one of the following:
Proof of vaccination (See COVID Updates page for acceptable forms)
Negative PCR COVID test (48 hours prior to performance)
Patrons ages 3 to 6:
Mask and negative rapid antigen test taken within 6 hours of the event, either at home or by a laboratory.
Patrons under 3:
Mask required for age 2 and older. No tests or proof of vaccination are required.
TICKET INFORMATION
Pre-concert (must be purchased by 11 am on the Friday before the concert)
Adult: $15
Youth: $5
At the door
Adult: $20
Youth: $10
Group sale tickets available for 10+ people. Must be purchased in advance through the Patron Services Office. No group sale tickets at the door. $10/ea.
Patron Services (707) 546-8742
Tickets are subject to a $2/ticket fee
All tickets are nonrefundable.
Programs, dates, artist, prices and COVID-19 protocols are subject to change without notice. Tickets are subject to availability.