Showcasing Our Own Saturday December 4 2021 at 2:00 PM PST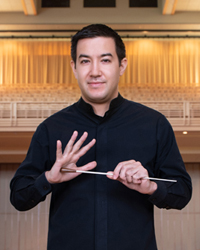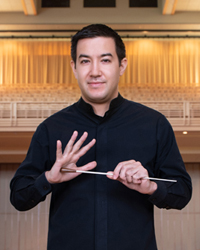 You've selected
Saturday December 4 2021 at 2:00 PM PST
Change Date
×
PERFORMANCE DATES & TIMES
Saturday, December 4, 2021 -- 7:30 pm
Sunday, December 5, 2021 -- 3 pm
Monday, December 6, 2021 -- 7:30 pm
DISCOVERY Rehearsal: December 4, 2021 -- 2:00 pm

Francesco Lecce-Chong, conductor
Kathleen Lane Reynolds, flute
Laura Reynolds, oboe
Roy Zajac, clarinet
Carla Wilson, bassoon
Dan Levitan, harp

RALPH VAUGHAN WILLIAMS: Fantasia on a Theme by Thomas Tallis
PAUL HINDEMITH:
Concerto for Flute, Oboe, Clarinet, Bassoon, Harp and Orchestra
DIMITRI SHOSTAKOVICH: Symphony No. 5

Pre-concert talk with Francesco Lecce-Chong in Weill Hall:
Saturday at 6:30 pm
Sunday at 2 pm
Monday at 6:30 pm

Single tickets go on sale August 30, 2021. Tickets are 15% Off August 30-September 17, 5 pm

SAT & MON @ 15% Off
Red: $77
Brown: $70
Gold: $63
Purple: $56
Blue: $43
Green: $20

SUN @ 15% Off
Red: $82
Brown: $73
Gold: $69
Purple: $61
Blue: $49
Green: $25

Please note: 15% Off single ticket discount only applies to the seven Classical Series concert. Fees apply.

Health & Safety:
At the Santa Rosa Symphony, the health and safety of our guests, artists, staff and volunteers always comes first. With this in mind, the Symphony will follow the most current state and local safety requirements. These governmental health and safety regulations, in this collective effort to put the pandemic behind us, may still be subject to change. Accordingly, we are unable to guarantee, in advance, the exact protocols you may be required to follow on the date of your ticketed performance. We will keep patrons informed via email communications and on this webpage with any new mandate or protocol. Please make sure you are receiving our emails and check our website for the most up-to-date protocols before arriving at Weill Hall. We rely on your patience and your trust..
Click here for the latest COVID protocols

All patrons, regardless of age, must have a ticket.
This event is for ages 7 and up
All concert programs, artists, dates and prices are subject to change.
Tickets are non-refundable.
$4/ticket fee applies

Venue
Weill Hall At the Green Music Center
Rohnert Park Expressway Petaluma Hill Rd
Rohnert Park CA 94928
Performance Notes
This event is a rehearsal not a concert. The concert program, during the Discovery Rehearsals, will be rehearsed at the discretion of the conductor to do what's best to be prepared for Saturday evening's performance. There will be stops and starts and it is not guaranteed pieces on the program will be performed in their entirety or in order.
Please be sure to read current guidelines before arriving.
Click here for the latest COVID protocols
×
This is a general seating performance - the seats are on a first come, first serve basis when you arrive at the theater.
Doors open 1/2 hour prior to start of performance.