Mozart's Swan Song Saturday December 7 2019 at 2:00 PM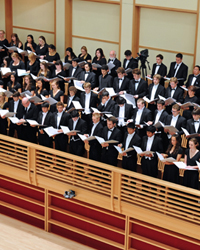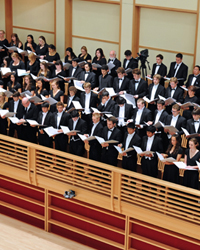 You've selected
Saturday December 7 2019 at 2:00 PM
Change Date
×
DATES & TIMES
Saturday, December 7, 2019 -- 7:30 pm
Sunday, December 8, 2019 -- 3 pm
Monday, December 9, 2019 -- 7:30 pm
Francesco Lecce-Chong, conductor
Shawnette Sulker, soprano
Laura Krumm, alto
Benjamin Brecher, tenor
Phil Skinner, bass
SSU Symphonic Chorus
Haydn
: Symphony No. 39
Jessie Montgomery
:
Records from a Vanishing City
Mozart
: Requiem in D minor
SINGLE TICKET PRICES
Saturday & Monday
$87 - Red
$78 - Brown
$75 - Gold
$68 - Purple
$53 - Blue
$24 - Green
Sunday
$87 - Red
$82 - Brown
$82 - Gold
$74 - Purple
$60 - Blue
$29 - Green
DISCOVERY, Saturday, December 7, 2019 @ 2:00 PM Tickets

$20 - Adults
$10 - Youth
Pre-concert talk with Francesco Lecce-Chong in Weill Hall
:
Saturday at 6:30 pm
Sunday at 2 pm
Monday at 6:30 pm
Haydn's Symphony No. 39 marries stirring action and high emotion with gracious wit and elegance, and features Francesco Lecce-Chong performing on harpsichord. Jessie Montgomery's Records From a Vanishing City intertwines vibrant jazz and folk influences with a haunting Angola lullaby. The Sonoma State University Symphonic Chorus partners with the Santa Rosa Symphony to offer Mozart's Requiem. Written from his death bed, this final masterpiece takes us on a transcendent voyage from terror to hope, with a halo of serenity and peace crowning its angelic conclusion.
All patrons, regardless of age, must have a ticket.
This event is for ages 7 and up
All concert programs, artists, dates and prices are subject to change.
Tickets are non-refundable.
$4/ticket fee applies
Venue
Weill Hall At the Green Music Center
Rohnert Park Expy and Petaluma Hill Rd
Rohnert Park CA 94928
Performance Notes
This is a Dress Rehearsal and is a general seating event.

Discovery rehearsals will be rehearsed at the discretion of the conductor to do what's best to be prepared for Saturday evening's performance. There will be stops and starts and it is not guaranteed pieces on the program will be performed in their entirety or in order.
×
This is a general seating performance - the seats are on a first come, first serve basis when you arrive at the theater.
Doors open 1/2 hour prior to start of performance.